Gladwin Machine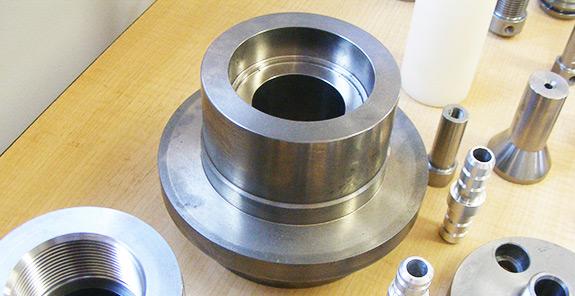 Since 1967, Gladwin Machine has been providing top of the line machine shop services and unparalleled customer satisfaction to private customers and commercial clients from a variety of unique industries. We're a family owned and operated shop, specializing in CNC turning, stainless steel TIG or Heliarc welding, CNC milling and manual machining.
CNC Machine Shop in Michigan
When you have a custom job that requires professional machining and a touch of seasoned quality, choose Gladwin Machine above all other machine shops. We run a full service shop with a various capabilities and have the resources in-house to custom-tailor any job to meet your exact needs and specifications. From TIG and Heliarc welding to CNC machining in Michigan, our talented machinists are backed by nearly 50 years of experience, with the skills to produce top-notch results for you. And, we're always willing to work closely with you to determine your exact needs: the only thing that equals the quality of our work is the quality of the service we provide.
At Gladwin Machine, we're equipped to work with plastics, stainless steels, tool steel and regular steel, as well as exotic materials such as Hastelloy and Inconel. Additionally we offer in-house welding repairs for virtually any need you may have and can produce quality results quickly to keep your project on time and under budget. And, thanks to our in-house CNC machine in Michigan and our numerous other on-hand resources, we're able to serve virtually any industry to an unparalleled level. Take a look at just a few reasons we're continually trusted for projects big and small:
We are a family-owned and –operated local small business.
We are a member of the Michigan Chamber of Commerce.
We are a member of the National Federation of Independent Businesses.
Our shop relies exclusively on top quality brand names, including Mazak, Hurco Mills
and Okuma Howa.
We proudly serve Gladwin, MI and the surrounding cities and towns.
Our Services Include CNC turning and Milling, Stainless Steel Welding, TIG Welding and more.
Our Service Areas Include:
Beaverton Township, MI
Grout Township, MI
Clare, MI
Taylor, MI
Arenac County, MI
Ogemaw County, MI
Roscommon County, MI
Clare County, MI
Isabella County, MI
Midland County, MI
Bay County, MI
and the entire state of Michigan!